RAAMWERK is a design collective led by Gijs De Cock and Freek Dendooven.
Since its establishment, RAAMWERK works on a portfolio of diverse projects in various sizes. The purpose is to create an empathic architecture that is characterized by critical social, programmatic and economic research.
RAAMWERK wants to achieve a certain generosity within the architectural process - the act of building - finally resulting in spaces that can be claimed by its users.

Partners: Gijs De Cock (Sint-Niklaas, 1987), Freek Dendooven (Kortrijk, 1987)
Collaborators: Bas Leemans, Ruben Castro
Former collaborators: Jon D'haenens, Helena Sileghem, Alice Sanders, Pieter Dossche, Louis Lories, Henri Schmid, Florence Mareen, Maroš Greš, Louise Vanderlinden, Anna Serio, Timotheus De Beir, Steven Van Schoor, Robbe Van Rafelghem, Jochen Schamelhout, Tim De Messemaeker

residential:
public:
masterplan:
care:
The project is the result of a participatory design-process regarding 30 social housing units as part of the masterplan De Werve Hoef. The cohousing project is conceived as a delicate ensemble in strong relationship to the spacious park. Three distinct volumes are arranged around an intimate courtyard, referring to the classical lay-out of a farmstead. Various small-scale outdoor spaces are created in the corners of the plot where strategically positioned shared spaces encourage informal and spontaneous encounters. Each zone has a specific atmosphere according to orientation, relationship to the park and internal interactions. The specific implantation of the exterior spaces creates a natural gradient between the public park, the shared garden and private units.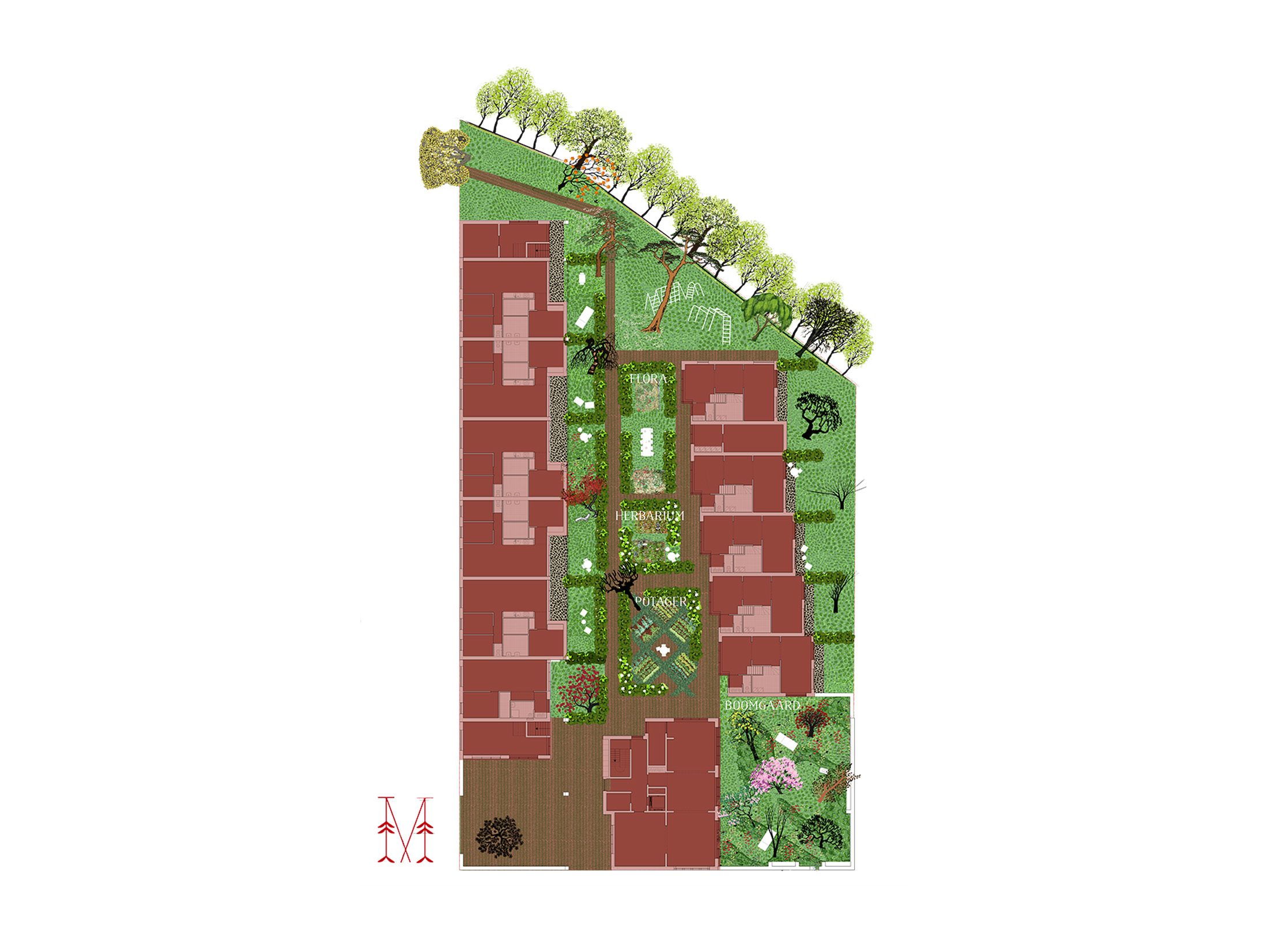 Within this versatile ensemble, each unit has a clear address towards the shared courtyard. The houses are conceived as hyper-flexible units in order to grow with its residents. This flexibility is also the result of a subtle zoning within the units, respectively linked to the private garden and terrace or to the public space. The gradient within the unbuilt spaces has a strong impact on the different units. A sense of connectedness to the residential ensemble exists without necessarily being compulsory.